---
Business Analyst Boot Camp
Defining Business and User Requirements
4-Day Intensive Training Program | IIBA Endorsed
Download a PDF of Course Overview and Outline
---
Business Analyst Boot Camp Overview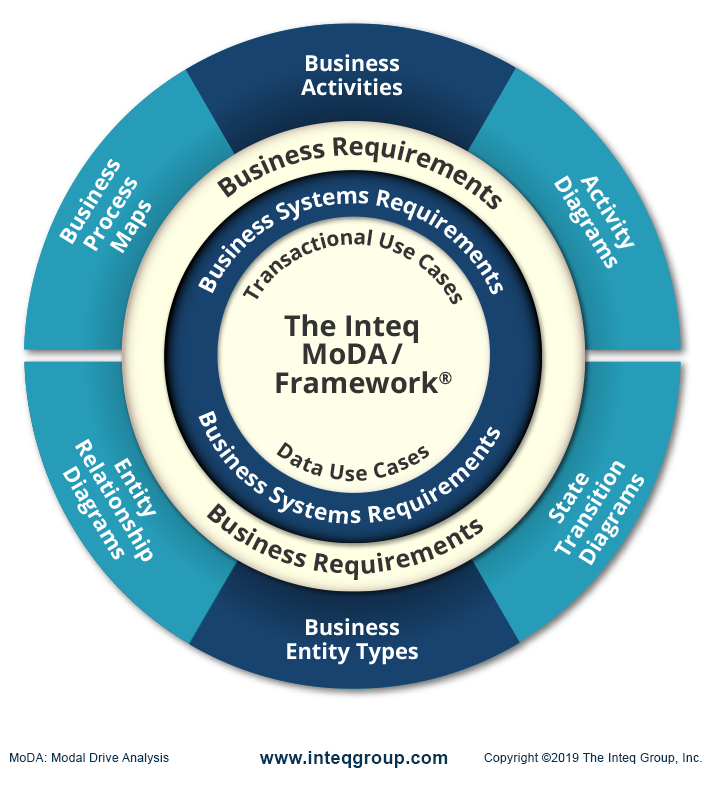 Inteq's 4-day Business Analyst Boot Camp provides participants with the full range of critical thinking skills, business analysis concepts and hands-on techniques to rapidly capture business requirements and to identify, thoroughly analyze and clearly specify forward facing business and user requirements.

Inteq's Business Analyst Boot Camp is about business and systems requirements - from a business perspective - and is seamlessly integrated and cohesively organized around Inteq's model-driven analysis framework for delivering agility, precision and consistency in business and systems analysis.

Until now, text oriented analysis (bullet lists, indented outlines, etc.) prevailed as the primary technique to identify, analyze and specify business and system requirements. Text oriented analysis, however, is resource intensive. It often lacks standardization, depth and precision.

Some organizations have attempted to adapt technical design methods (class diagrams, object interaction diagrams, etc) to business systems analysis. Technical design methods intimidate and alienate the business community. As a result, stakeholders disconnect from the analysis process.

These approaches fail to deliver. In today's fast moving, agile, complex business environment organizations can no longer afford the costly mistakes, operational inefficiencies and lost opportunities that result from superficial analysis and ambiguous requirements.

Inteq's model driven analysis approach and best practice methods utilize a cohesive set of intuitive business oriented visual diagrams (e.g. process maps, activity diagrams, etc.) to rapidly identify, critically analyze and clearly specify forward facing business and business systems requirements. The result: breakthrough speed, accuracy and depth of business systems analysis. [Read More]

Inteq's Business Analyst Boot Camp transforms business and systems analysts into high-impact professionals; professionals that connect with business end users, uncover and rapidly assimilate deep business knowledge, and critically analyze and transform that knowledge into thorough, precise unambiguous business and user requirements.

Our goal is transformational change in how participants approach, think and practice business analysis. This includes a cultural shift from an order taking approach to a professional consultative approach that drives substantial ROI from analysis.

Transformative change enables participants to move past the obvious needs, wishes and gripe analysis to a deep forward facing professional analysis based on driving operational efficiency and organizational effectiveness.

The knowledge and skills acquired from this course enables participants to standardize, continually refine, and consistently apply and leverage business and analysis best practices across projects across the enterprise.

Inteq training is more than education; its transformation - for the participants, project teams and their organizations. That's why over 300,000 business and systems analysis professionals worldwide choose Inteq's training courses.
---

Upon completion of this course, participants are able to:
• Apply the 5 underlying business requirements patterns that form the foundation for business analysis
• Engage business users, subject matter experts and stakeholder in the analysis process
• Ask specific questions that elicit deep business knowledge and surface "hidden" requirements
• Analyze business requirements 360º to ensure thorough analysis
• Identify and validate complex business scenarios
• Leverage analysis resources and business knowledge across the enterprise
• Apply agile business analysis best practice techniques and methods
• Assess the business value of deliverables to optimize the allocation of analysis resources
• Select and apply elicitation best practices in working with SMEs, customers and other stakeholders
• Create clear concise user stories from use cases
• Utilize the future-state process maps to identify forward facing business requirements
• Create visual models / diagrams to engage business users / subject matter experts in analysis
• Transform project level analysis and requirements to enterprise level analysis and requirements
• Elicit and apply business scenarios to validate requirements
• Utilize use-cases to professionally specify precise unambiguous requirements
• Conduct facilitated workshops to rapidly discover and validate deep business knowledge
• Apply a wide range of critical thinking skills to business and systems analysis
• ... and much more
---
Who Should Attend? Business and I.T. professionals at every level of experience. This course is designed for Business Process Analysts, Business Analysts, Business Systems Analysts, Project Managers, IT Professionals, Subject Matter Experts, and anyone actively involved in analyzing business processes, discovering business requirements and identifying, analyzing and specifying business and user system requirements.

Prerequisites: None. Business Analyst Boot Camp provides a comprehensive, cohesive approach to business and systems analysis, regardless of your background and experience.

Learning Method: Traditional live instructor-led physical classroom onsite at your location.

Duration: 4 Days, 28 IIBA Professional Development (PD) Hours. Business Analysis Boot Camp is fully aligned with the BABOK® Version 3.0 Business Analysis Body of Knowledge – including the Agile Extension to BABOK® and are endorsed for CBAP® Certification and CCBA® Certification.

What's included? In addition to the world-class training, participants also receive a comprehensive course workbook - which is yours to keep, supplemental materials, a personalized Certificate of Completion and CEU (continuing education unit) and PU (Professional Development) credits

Availability: Business Analyst Boot Camp is available onsite worldwide at your location or via open enrollment at scheduled dates and locations.

Registration & Tuition Information
---
Inteq's Business Analyst Boot Camp is a highly interactive high-energy training program. It's specifically designed to enable you and your organization to succeed in today's rapidly changing, complex chaotic business environment.

The concepts and content of this course are based on years of best practices gleaned from thousands of business analysis interactions across the spectrum of industries and subject matter domains across the commercial and public sectors. It's your roadmap for developing enterprise-level professional skills.
---
What is the Next Step?
Contact us for details at info@inteqgroup.com or 800.719.4627 to discuss your training objectives and how Inteq's business analysis training programs can help you in achieving those objectives.
Business Systems Analysis
| Agile Business Analysis
| Business Process Modeling
| Business Process Reengineering
Logical Data Modeling
| Advanced Data Modeling
| Requirements Management
| Effective Business Cases
| Change Management
| Soft Skills
| BA Boot Camp
Learning & Development Home