---
Agile Business Analysis Training Course
Delivering Speed, Quality & Engagement
Download a PDF of Course Overview and Outline
---
Agile Business Analysis Training Overview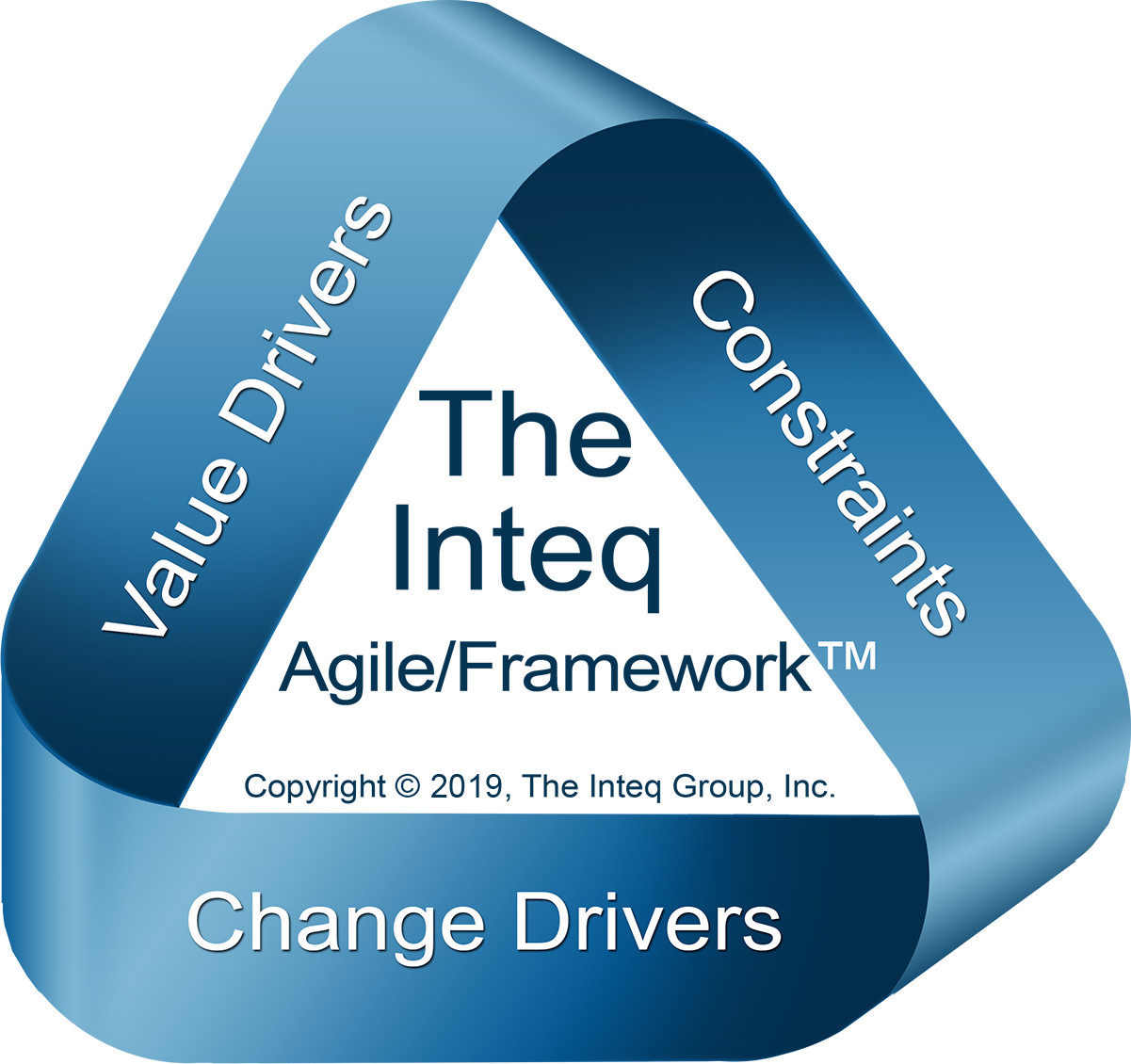 Inteq's Agile Business Analysis training course enables analysts to rapidly and intelligently prioritize requirements and optimize resource (time, talent, budget) allocation to get the right requirements "right" - using the right techniques to rapidly deliver the right level of detail and precision, to the right people at the right time.

Inteq's Agile Business Analysis course applies to the spectrum of business analysis projects from Business Process Reengineering (BPR), digital transformation and I.T. modernization – to identifying, analyzing and specifying business system requirements and orchestrating change management.

Agile business analysis is essential in today's increasingly complex, rapidly changing and often chaotic, globally competitive business environment.
Projects often span multiple business areas with different, sometimes conflicting, business practices.
Getting "buy in" and support from a wide range of sponsors and subject matter experts is critical.
Organizations are lean. No one seems to know "the business" - only pieces.
Access to knowledgeable subject matter experts is increasingly difficult - often resulting in an endless chain of references to "someone who knows".
Business is fast paced. Innovation is essential. Everyone needs a solution "now"!
There never seems to be enough time to get it right. However, there is little tolerance for getting it wrong.
Delivering increasing levels of customer and business value is essential to competitiveness.
Organizations continually evaluate, prioritize and fund projects based on delivering organizational effectiveness and operational efficiency.
Inteq's Agile Business Analysis course leverages the best practice skills, methods and techniques gleaned from projects across the spectrum of industries coherently organized in connection with the Agile Extension to the BABOK® Guide.

Agile Business Analysis is the perfect follow-on to inteq's Business Systems Analysis, Business Processes Modeling, Business Process Management courses.

Inteq's business analysis training courses have emerged as the gold standard for professional business analysis training - and are simply the most effective business analysis training courses available in the industry.

Inteq's Agile Business Analysis training course is more than education; its transformation - for the participants, project teams and their organizations. That's why over 300,000 business and systems analysis professionals worldwide choose Inteq's business analysis training courses.
---
Key Business Analysis Skills and Techniques that You will Learn:
Professional level agile business analysis techniques and methods
When and where to apply agile business analysis
To rapidly discover deep business knowledge
To improve the speed and quality of analysis
To assess the business value of deliverables to optimize the allocation of analysis resources
Best practices in working with subject matter experts (SMEs) and other stakeholders
To create clear concise user stories from use cases
To seamlessly apply agile analysis to any project
... and much more
---
Inteq's Agile Business Analysis is a highly interactive high-energy training program. It's specifically designed to enable you and your organization to succeed in today's rapidly changing, complex chaotic business environment.

The concepts and content of this course are based on years of best practices gleaned from thousands of business analysis interactions across the spectrum of industries and subject matter domains across the commercial and public sectors. It's your roadmap for developing enterprise-level professional skills.

Participants in Inteq's Agile Business Analysis training receive a comprehensive course workbook, supplemental materials, and a personalized Certificate of Completion indicating CEU (continuing education unit) credits awarded.

---


What is the Next Step?
Inteq's business and systems analysis training courses are available via Anytime eLearning™ and private group training onsite at your locations worldwide or via our live virtual classroom.

Register and start training as soon as today! Or, contact us for details at info@inteqgroup.com or 800.719.4627 to discuss your business analysis training objectives and how Inteq's Business Systems Analysis training can help you in achieving those objectives.
Anytime eLearning™ Inside Look Registration & Tuition Information
Business Systems Analysis | Agile Business Analysis | Business Process Modeling | Business Process Reengineering

Logical Data Modeling | Advanced Data Modeling | Requirements Management | Effective Business Cases

| Change Management | Soft Skills | BA Boot Camp

Learning & Development Home





---
New Whitepaper
The Inteq Agile/Framework™
Breaking the Myth of the Iron Triangle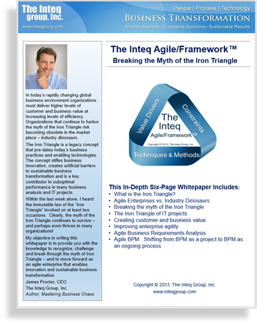 |Download the Whitepaper as a PDF|
This In-Depth Six-Page Whitepaper Includes:
Agile Enterprises vs. Industry Dinosaurs
Breaking the myth of the Iron Triangle
The Iron Triangle of IT projects
Creating customer and business value
Improving enterprise agility
Agile Business Requirements Analysis